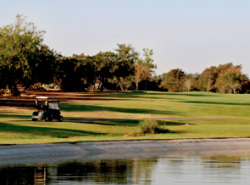 Delaware Springs Golf Course
-
Burnet, TX (GBG Rating - 2)
Review by Kim Guidry.
This beautiful municipal golf course is cradled by tons of trees and gentle rolling h
ills along the Highland Lakes.
Picturesque and challenging, the 6829-yard (back tees), Par 72 course has earned its place as a Hill Country favorite.
When you play the Delaware Springs Golf Course, you will experience some of the best Hill Country golf around. There are various water hazards and strategically placed sand traps that make this course challenging and to forces you to think hard before selecting that perfect club. The course offers an assortment of top quality facilities. The driving range provides a nice grass facility with a large putting green and chipping area close by. The Pro Shop is small, however provided great prices on all items. The restaurant provided terrific service with a smile and fresh sandwiches at the turn. Course knowledge is a huge advantage in order to play this venue properly. There were many blind shots and very tight sloping fairways that resulted in some great shots turning into trouble. The undulating greens rolled true and provided a difficult challenge for all skill levels. I will definitely go back to play this course again in the future. It's convenient from San Antonio and Austin. I recommend this course to anyone who may be staying around the Marble Falls area and prepare yourself for an unparalleled golfing experience.
Overall GoBigGolf.com highly recommends this course!
---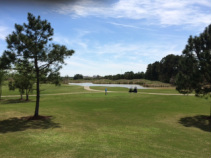 Koasati Pines at Coushatta - Kinder, LA (GBG Rating - 2)
"Nestled in the natural wetlands of Southwest Louisiana, surrounded by stately pines and huge live oaks, Koasati Pines at Coushatta offers an experience unlike any other. Combine the beauty of Nature with a dynamic 18-hole, par 72 championship layout, six sets of tees, multiple approaches on three holes, plus a unique "Gambling Hole" - now you've got a hint of what Koasati Pines is all about."
Koasati Pines offers a very comfortable southern charm throughout the property and clubhouse. The courteous and professional staff were eager to assist all our needs. The excellent practice facility is convenient to the clubhouse and offers areas to hit every shot in the bag. Practice balls are included with green fees which were reasonable at $70 per golfer for a weekend round.
The course has scenic views and yet is open and inviting for every golf shot. The many tee box options are set up very fairly for all skill levels. The golf carts include GPS distance monitors that worked great. You can even order drinks and food while you play so as not to hold up the pace of play at the turn. We teed off at 1200 pm on a sunday and play was quick...we finished in 3 hrs and 41 minutes. The course conditions were impeccable considering the course had been hit by a major thunderstorm the night before. The greens rolled true and were around 10 on the stimpmeter. The bunkers are well maintained and consistent throughout the course. There are plenty of chipping areas around the greens for that occasional missed approached shot. The pro shop was very well stocked and even had unique gift/souvenir items for the whole family.
Overall we very much enjoyed our day at Koasati Pines at Coushatta. The course is out in the country and the peaceful environment, pine trees, wildlife, and water features throughout the course made for a relaxing day of great golf.
---
---
Las Vegas National Golf Club - Las Vegas, NV (GBG Rating - 2)
The Las Vegas National Golf Course was designed in 1961 by architect Bert Stamps, and has a rich history. The course hosted a number of LPGA & PGA events including the Tournament of Champions, Sahara Invitational and the Las Vegas Invitational. In fact, Tiger Woods played Las Vegas National in 1996 on his way to capturing his very first PGA Tour victory.
"The National" Golf Club, located less than 10 minutes from the Las Vegas Strip, is a classic and traditional style 18-hole championship golf course that provides golfers of all skill levels with a unique challenge, fun and exciting experience. The par 71 course features thousands of trees, well positioned sand bunkers and a few water hazards that protect lush fairways and manicured greens.
We were able to get a tee time on the spot on a Sunday and the play was steady. The staff was friendly and accommodating on the fees. The price was great, even on a Sunday. If you are military ask for the discount. The Pro-Shop didn't have much apparel for women so that was disappointing, however the restaurant and bar was a great place to relax, watch golf on TV and have a cocktail. The Marshall gave us some Hollywood history of some houses to look for on the course. They were houses used in Hollywood movies. This course is a must go play course and we recommend this course to anyone whom visits Las Vegas.
See the Go Big Golf Course Rating Scale and Criteria here!
TPC San Antonio - San Antonio, TX (GBG RATING - 2)
TPC San Antonio features 36 holes designed by two of the world's most talented and respected golf course architects: Pete Dye, considered by many the most influential golf course architect of the past five decades; and World Golf Hall of Fame member Greg Norman. Both the
AT&T Canyons
and
AT&T Oaks
Courses were ranked among the top 15 "Best Courses You Can Play" in Texas by Golfweek in 2012. The Oaks course host the Valero Texas Open and the Canyons course hosts the Champions Tour AT&T Championship. On site accommodations at the JW Marriott are absolutely the best. If you want to play some of toughest holes in professional golf you have to take a shot at the Oaks course. The greens are fast and undulating and tee shots are surrounded by typical Texas landscape…cactus, mesquite, rocks, and more…enter at your own risk! Overall this is a don't miss property. The green fees are a little pricey but try going on an off day Mon-Thurs or off season…Nov-Feb for better deals. They definitely earn the GBG rating of an Eagle 2!
SilverHorn Golf Club - San Antonio, TX (GBG Rating - 2)
Silverhorn Golf Club of Texas is set just north of downtown San Antonio but when you are on the course you feel as if you are in the Hill Country. The distinct Hill Country character of SilverHorn Golf Club can be credited to designer Randy Heckenkemper along with PGA Tour Professionals Willie Wood and Scott Verplank. SilverHorn's tree-line fairways, strategic use of sand and water, and beautifully framed contoured greens make this par 72 course a treasured Hill Country experience long remembered. SilverhHorn Golf Club is a fantastic upscale public golf course that is a must play while in San Antonio. The greens are always in impeccable shape and roll fast and pure. The practice area is spacious and well maintained. Green fees and other rates are more than fair and they offer many incentives for members and non-members. Check-out the Arnold Palmer Loyalty Club special…drinks, free replays, merchandise discounts and more. The staff is courteous and knowledgable at all times. The only downside we found here was they are so busy that the pace of play is a little slow. Overall this is a perfect location for your group, tournament, or to just practice. Silverhorn is a GoBigGolf.com favorite!
The Wetlands Golf Course - Lafayette, LA (GBG Rating - 5)
The Wetlands Golf Course in Lafayette, Louisiana provides you an experience of great golf for a city golf course. The Wetlands Golf Course accommodates all levels of players with 5 tees ranging from 7300 yards at its longest and just over 5000 yards at its shortest. The TifDwarf greens are smooth rolling providing a test for every golfer.
This golf course is 18-holes and challenging, but fun. The fairways and subtle rolling terrain can be intimidating if you've never played the course, because of blind shots.
The Wetlands are exactly true to it's name, lots of water on the course, but very scenic with a natural beauty. The practice area was a nice practice area in which I enjoyed using.
There are some downsides for this course being a city course, it's very pricey and the pro shop was small and didn't have much in the way of merchandise. There was only one person at the register that seemed like he was having a bad day, so he wasn't welcoming.
The Golf Marshall, for the day, came out to the parking lot to offer us some free water golf balls.
It's a sad day when your employees of the course can't play for free, especially when they work so hard and love what they do.
If this is a city owned course, then we suggest the local golfers protest playing at that course until they can change the price it costs to play and allow the employees to play for free.
River Crossing Golf Club - Spring Branch, TX (GBG Rating - 2)


(www.rivercrossingclub.com)

One of the great things about south Texas is being able to golf all year round. While it's snowing up north we are very blessed down here to have great courses to play anytime. Recently I went out to River Crossing Golf Club..."Located just 20 minutes north of San Antonio and about an hour south of Austin, River Crossing Club is close enough for convenience, yet far enough for a tranquil escape. It's an ideal place to enjoy yourself or do business away from the distractions of the city. Panoramic views, excellent golf course conditions, and the park like atmosphere all contribute to a true retreat from the outside world!" (www.rivercrossingclub.com).
I couldn't agree more with those sentiments. River Crossing is a fun yet challenging track of golf. The entire property is well laid out and simply fits perfect in the beautiful Texas hill country. The staff provides excellent service and welcomes guests with a smile. The driving range and practice green are in perfect shape and have plenty of space or all skill levels. The course is in great condition considering it is the end of winter and it had rained the whole night before. The greens are fast yet fair and the pin placements were well placed. The pro shop is fully stocked with the latest in golf equipment and accessories.

River Crossings Head Golf Pro, Jari Tompuri, personally greeted our group and ensured everything was perfect for our event.

Overall I highly recommend River Crossing for your next golf outing. It is a private course but allows limited amounts of guest play. Details:

Type: Private

Holes: 18

Year built: 2001

Guest Policy: Limited non-member play

Golf Season: Year round

Metal Spikes Allowed: No

Driving Range Available: Yes

Rental Carts Available: Yes - included in green fees

Rental Clubs Available: Yes

Pro Available: Yes

Tee Times Welcomed: Yes

Price Range Weekdays: $45 - $65

Price Range Weekends: $50 - $80

Credit Cards Accepted

---