Bag Boy Tri-Swivel Push Cart
Written by: Kim Guidry - GBG Fashion Editor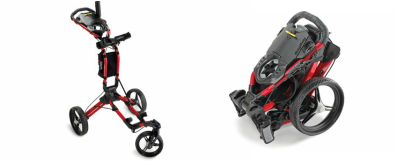 The new 2013 BagBoy Tri-Swivel is the cart for every golfer! I updated my push cart after having an older version for about 7 years. I will provide you the company description, the comparison between my old push cart and my overall rating.
First off the BagBoy push carts are my favorite. I find them reliable and lasting. The 2013 BagBoy Tri-swivel push cart has a weather resistance aluminum frame and only weighs 16 lbs. I like the fact that the front wheel can swivel at 360 degrees for effortless maneuverability or can be locked in place for hills and long distance. I needed a push cart that provided more space in my small car. This cart folds down to 22"x14"x18" and looks like a cube. The tires are solid foam maintenance free. The cart has an integrated beverage holder, tee and ball holder, scorecard and pencil holder, a small compartment for personal items, secured umbrella holder and a bonus storage bag.
My old BagBoy was reliable and sturdy. However, what I like about this cart is you don't have to pump up the tires when they lose air. My old cart had the beverage holder underneath the handle so it was not functional since nothing ever went in or came out easily. The new Bag Boy cart's beverage holder is on top and is easily accessible. The extra storage compartment is perfect to put my keys or phone away during a round. I needed a lightweight and small push cart to go into my compact car and the Bag Boy Tri-Swivel folds down so small it will fit in any trunk very easily.
My overall rating would be a 4 out of 5. It was a little difficult at first to figure out how to unfold and fold it, but I caught on quick and now its easy. I am concerned that over time the plastic handles and locks may break easily since this cart has many moving parts. It's a great cart overall and I would recommend it to anyone. It's worth the $200+ you may pay for it since it has so many pros and I know that this cart will last another 7 or more years.

---
Garmin S1W Approach GPS/Watch
Written by: Kim Guidry - GBG Fashion Editor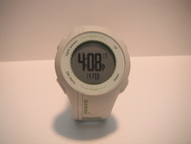 Go Big Golf recently took the Garmin S1W Approach GPS/Watch for a test drive. This review will provide details of what the Garmin provides functionally, its accuracy and our overall rating for the device.

The Garmin S1W Approach GPS/Watch is pre-loaded with over 20,000 golf courses in America and Canada. It's a lightweight wristwatch that is easy to wear and comfortable and keeps accurate time and date. The golf course distances are measured to the front, middle and back of the green. If you are a walker, the Garmin has an odometer to measure how far you've walked. The nice part about this Garmin is there are no subscriptions or additional setup fees…its ready to go as soon as you pull it out of the box.

The Garmin is easy to use with push buttons along the edge that control the menu, power, and scroll function of the screen. The Garmin automatically locates the course you are at and once you select the course provides you distances to each green. The device does not have the capability to provide distances to hazards, bunkers, or other landmarks on the course. The Garmin's battery life lasts for one round of golf and maybe another 9 holes if you're lucky. The Garmin must be charged in-between rounds.

The accuracy of the Garmin is consistent with most other GPS devices. We compared the Garmin to local course scorecards, distance markers, and a SkyCaddie. On average the device provided distances that varied by 3-5 yards from actual distance. Using this product helped with proper club selection and definitely gave our tester more confidence with approach shots to the green.

Overall the Garmin S1W Approach GPS/Watch is a great addition to the golf bag. Go Big Golf would give it a B+ rating because it's simple to use, it's accurate, and it will help a players game. The Garmin is well worth the price…we paid under $200. This is a great GPS for beginners and intermediate golfers. The biggest issue is the battery life. We recommend this product and will continue to use the Garmin S1W Approach in the future for all rounds of golf wherever our travels take us.

---