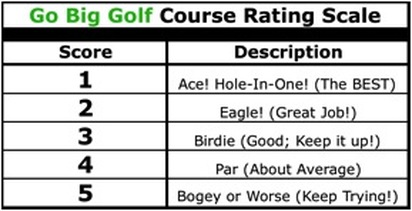 Go Big Golf Course Rating Criteria
Courses are rated using the following criteria. Each area is scored using our rating scale from 1-5. Just like in golf the lowest score is the best. We then take the score from all ten criteria and determine the average overall rating for the course. NOTE: This is not scientific and the ratings only reflect those opinions of the rater. Go Big Golf does not at any time discuss or solicit the course staff in an attempt to influence the ratings. We make every effort possible to rate the facility honestly and fairly. We are open to any and all comments to our ratings in an effort to provide our readers the best information possible.


1. Price
a. The overall cost to golf is very reasonable compared to similar courses in the area.
b. The Cost for driving range, cart fees, and refreshments are reasonable and worth the expense.
2. Access
a. Tee times are simple to set up and plentiful.
b. There are multiple methods to scheduling tee times (Internet, phone or both).
3. Playability
a. The course design and set-up is conducive for all playing levels.
b. Pin placements are fair and reasonable in relation to the speed of the greens and approach shots required.
4. Conditions
a. The tee boxes, greens and fairways are well maintained and in pristine condition.
b. The hazards and OB areas are well marked and visible.
5. Location
a. The facility is close major highways, airports, and other transportation.
b. Lodging and other entertainment is in close proximity for out-of-town visitors.
6. Pro Shop
a. The Pro Shop is clean and organized and the staff is knowledgeable about their products and willing to answer questions.
b. There is wide variety of apparel, equipment, and accessories to include items for women and junior golfers.
7. Restaurants/Food & Drink
a. The facility has a full service restaurant/snack bar, bar, and beverage carts open and well stocked.
b. The quality of the food and service is excellent.
8. Practice Areas
a. The practice greens/bunkers have plenty of space and the conditions are similar to the actual course.
b. The driving range has plenty of hitting areas with mats and grass areas available.
9. Customer Service
a. All the staff are friendly and courteous.
b. The staff understands golf etiquette and are responsive to the customers.
10. Overall Atmosphere
a. The overall experience at this facility is exceptional.
b. I would go back again and I highly recommend this course to other golfers.